THE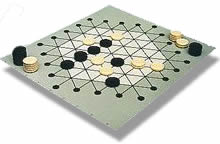 LIST
Headset walkie talkies (for secret spy communication)
A hundred or so Super-bright white or tri-color LEDs
Bug Vacuum (also at Target?)
Ice Cream Ball (Also available at Duluth Pack)
Tamsk, Dvonn, Yinsh, any games from the Gipf project
Wreck the Nation Board Game
Other interesting or abstract 2-3 player board games (not life or clue or monopoly)
Thinkgeek Wishlist
Starwars Galaxies Game Card
Lego Mindstorm Robotics Invention System 2.0
Fun Intelligent toys!! (For fun intelligent people)
One of those backrub things you get at weird bath/body stores like a turtle where its feet are supposed to feel good on your back or something.